Riverview Health's Commitment to Care
by Christy Heitger-Ewing 
For more than a century, Riverview Health has been committed to caring for the residents of Hamilton County and the surrounding areas. Over the years, the community-based health system has offered free public seminars on a variety of topics, including women's heart health, orthopedics and sports medicine, diabetes, nutrition, dementia, and more. Their devotion to Westfield is evident in the opening of Riverview Health Westfield Hospital, which just celebrated its five-year anniversary in October. 
"We are grateful to serve the Westfield community, and in the last five years, our services at Riverview Health Westfield Hospital have grown significantly," says Hilary Herendeen, Director of Employer Services at Riverview Health. 
Currently, the facility houses primary care offices, orthopedics and sports medicine, physical and occupational therapy, an employer-based health center, plastic surgery, gastroenterology, a women's center that offers both mammography and bone density scanning, an advanced imaging center, and a pharmacy. There is also a uniquely combined ER/urgent care, which is designed with patients in mind and provides a more cost-effective and efficient form of care for families.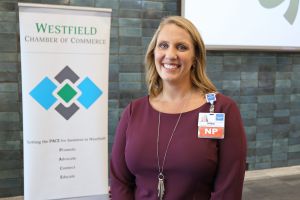 "The combined ER/urgent care model takes the guesswork out of healthcare. Riverview Health Westfield Hospital offers both emergency and urgent care services in one convenient location," says Herendeen.  "Patients are treated and billed according to the level of care received."  
As to how Riverview Health is serving local employers, they are launching a Riverview Health at Work program, which combines their employer-based health centers, occupational health, and the corporate wellness service line. The goal of this program is to provide high-quality care while keeping healthcare costs low for employers. Riverview Health at Work currently partners with Hamilton County Government, the City of Westfield, the City of Noblesville, and Westfield-Washington Schools to provide employer-based health centers, occupational health services and onsite corporate wellness screenings. They also serve their own employees and family members in the health centers. 
"Riverview Health at Work is committed to making Hamilton County the healthiest workforce in Indiana," says Herendeen. "We welcome conversations with like-minded employers." 
The employer-based health centers provide fully functional primary care services. In addition, they have on-staff registered dieticians as well as health and wellness coaches for people who are interested in weight loss, change management, smoking cessation, stress management, and goal- setting. They also have a licensed psychologist on staff to provide behavioral care services for things such as anxiety and depression. 
"Our employer-based health centers are advantageous to families because we've removed the financial barrier to care.  Services offered in the centers are provided at no cost to the patients. The employer covers the cost and considers access to the health center as part of the employee's compensation package," says Herendeen.  
"To further serve our patients, we also provide population health programing, which groups people with similar diagnoses and gives them the resources they need to make a positive impact on their health. These programs are designed to increase patient engagement. We reach out to them to make sure they are scheduling appointments, coming back for follow-ups, and meeting with a dietician," says Herendeen. "It's a proactive versus reactive approach to health."  
Occupational health is another area that fits under Riverview Health at Work. The Occupational Health team treats work-related injuries, conducts pre-employment physicals, and offers drug screening services. They also provide Department of Transportation physicals for drivers who require a Commercial Driver's License.  
The Riverview Health at Work Corporate Wellness team provides biometric health screenings at your place of employment.  Screenings includes height, weight, blood pressure, and wellness labs to screen employees for things like diabetes and high cholesterol.   
"By bringing healthcare to the workplace, we're making it as convenient and as accessible as possible," says Herendeen.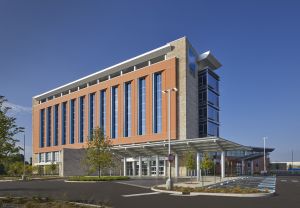 Riverview Health has been a proud sponsor of the Westfield Chamber for several years. To further support the Westfield community, they have sponsored the following organizations and events: Downtown Westfield Association, Women in Westfield, Westfield in Lights, Westfield Touch-a-Truck, Westfield Kids Concert Series, Westfield Fire Department, Westfield Welcome, and Yellow Tie Gala, which benefits Westfield Youth Assistance. They are also proud and honored to be the exclusive healthcare provider for Westfield-Washington Schools Athletics by providing onsite and sideline support from Riverview Health athletic trainers and orthopedic and sports medicine physicians for a variety of sports and teams. 
In addition to Westfield Schools sports, Riverview Health provides athletic trainers for WYSI to cover home football games for their sixth-grade travel team as well as for the Westfield Hockey Club's varsity and JV home games. 
"Riverview Health is incredibly proud of the care that's being offered to Westfield patients and employers, and we look forward to continuing to grow with the Westfield community," says Herendeen. 
Riverview Health Westfield Hospital is located at 17600 Shamrock Blvd., Westfield, IN 46074. For more information, call 317-776-7237 or visit RIVERVIEW.ORG.