Enhancing the Community's Quality of Life: Citizens Energy Group Provides Water & So Much More
by Christy Heitger-Ewing
Water is life. We drink it, shower in it, wash our clothes in it, and grow plants & grass with it. We also need to be able to dispose of it in some manner. Citizens Energy Group, which has been around more than 130 years, acquired Westfield's water and wastewater systems in 2014. Citizens previously acquired Westfield's privately owned natural gas system in 2004.
"We touch water as it comes into your home or business and take it away," says Jeff Sinclair, Sales Manager with Citizens Energy Group. "The investment we make in the community in infrastructure alone has helped with not only economic development but also quality of life as we support both the residential and the commercial side."
That's a big deal, especially when you consider that Westfield is one of the fastest growing communities in Indiana.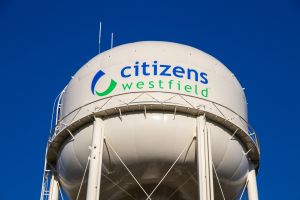 Citizens' water system in Westfield serves roughly 50,000 people. The water facilities include three treatment plants and 330 miles of water mains that can provide 11.8 million gallons per day (MGD) of finished drinking water. Five interconnects with Citizens' larger system provide Westfield with access to the additional water supply it needs to sustain ongoing growth. For example, Westfield has access to water supply from the Harbor Treatment Plant and wellfield near Noblesville. Westfield also has access to water supplies from the new Citizens Reservoir, a former quarry near Geist Reservoir that was converted into the first new reservoir in Central Indiana in nearly 50 years.
Citizens' Westfield wastewater system provides sanitary sewer service to roughly 49,000 people. Westfield's wastewater treatment plant currently has 3.75 MGD of capacity. Upon expansion in 2023, the plant will be rated to treat 5.0 MGD. The collection system also has contracted capacity of 2.14 MGD of treatment capacity with the City of Carmel.
Citizens' Westfield natural gas system provides service to roughly 16,000 people. The utility has access to effective portfolio planning that ensures affordable gas supplies from a variety of gas production areas in North America and is able to utilize Citizens' natural gas storage service.
Citizens has invested well over $100M into both the water and wastewater systems to help with economic development.
"With Citizens ownership, it helped facilitate economic development projects like Grand Park as well as communities such as Chatham Hills and Derby Ridge," says Sinclair. "Such developments couldn't happen without significant investment in the two systems."
Citizens is an active sponsor of community nonprofits in Westfield. For example, they sponsor the Yellow Tie Gala, which supports the Westfield Youth Assistance Program.
"This is a fabulous fall event that typically attracts several hundred people," says Sinclair, who has been with Citizens for more than 30 years.
This year's gala will be held on October 7 from 6-10 p.m. at The Bridgewater Club. Citizens Energy Group also supports the local Boy Scouts, the July 4th Festival, and the Westfield Diversity Festival. During the Indianapolis Colts training camp, Citizens provides its mobile drinking water source, H2O to Go, for visitors to Grand Park. In addition, Citizens supports the efforts of the Westfield Chamber of Commerce, including having Jerry Gentry, Commercial Sales Consultant in Market Development with Citizens Energy Group, serve on the Chamber board. Gentry attends as many ribbon-cutting ceremonies as possible so that he can welcome new businesses and individuals into the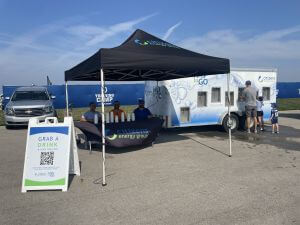 community.
"Those ribbon-cutting ceremonies may seem like just a lot of fluff, but it's neat for folks coming in to see so many people support them, including the mayor and the Chamber," says Gentry. "It's nice to be a part of that and to witness such tremendous growth because Westfield used to be a farming community where you could drive through and see cornfields on either side of you. It's exploded in recent years."
Gentry is at the Chamber monthly, if not weekly, attending luncheons, meetings, and events. The Farmers Market, which runs every Thursday from 5-8 p.m. at Grand Junction Plaza from late May through early October, is about to wrap up, but the Hoosier Chocolate Festival is coming up in 2024! That's great news because while water is life, some may argue that so is chocolate.
Citizens Energy is located at 2020 N. Meridian Street, Indianapolis, Indiana 46202. For more information, call 317-927-4745 or visit citizensenergygroup.com