It Takes a Village: Loyal Volunteers Help Run Ascension St. Vincent
by Christy Heitger-Ewing
It takes a village to raise a child. The same could be said for running a hospital. Without the dedicated people who volunteer their time and energy, patient care at such institutions simply wouldn't be the same. According to Allysha Smith, Program & Volunteer Manager at Ascension St. Vincent, the Carmel location has roughly 45 regular volunteers, some of whom hold multiple positions (e.g., working in the Women's Center, volunteering as a NICU cuddler). Potential volunteers fill out an application that includes such things as background info and current vaccination status. Following a background check, they are interviewed.
"A lot of our volunteers are retired community members who still want to pursue their passion," says Smith. "We try to coordinate their interests with the areas they work in."
Typically, volunteers work one day a week, either mornings from 8-12 or afternoons from 12-4. If a volunteer serves in a dual role, however, he or she might work eight hours a day.
"I have one volunteer who sits outside the Women's Center to greet patients and visitors as they come in. Then in the afternoon she works inside the Women's Center," Smith says.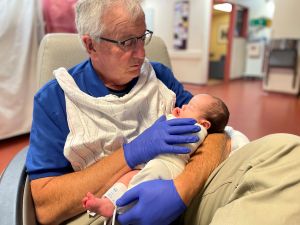 Volunteers are required to be at least 15 years old and commit to working for a minimum of six months. This past summer, Ascension St. Vincent saw an influx of student volunteers from Carmel High and surrounding schools, which they loved.
"This enables students the opportunity to explore the healthcare industry and see that there's more to the healthcare field than being a physician or nurse," Smith says. For instance, there are X-ray technicians, phlebotomists, and numerous non-clinical roles.
"Getting that firsthand experience is great. These students are so intelligent and have worked out so well. Departments are over the moon to have them here," Smith says. "This is a great steppingstone for them to get their foot in the door with Ascension. These youth volunteers may someday become Ascension employees."
Brenna Ford, Senior Public Relations Specialist for Ascension St. Vincent, is thrilled to see so many of their volunteers come from Westfield.
"We're grateful they spend time with us," says Ford. "They've made such an impact, especially during the COVID pandemic, which put all of healthcare into a complicated situation. During that time, our providers were very busy, and our hospitals were overwhelmed, but our volunteers made a difference and continue to make a difference as we come out of those pandemic protocols."
Smith agrees, noting how critical volunteer roles were at a time when healthcare staff were overextended and stressed. Volunteers stepped up to greet patients or walk them back to their rooms, offering them compassion and kindness. This gave the nursing staff short breaks to get a drink of water, grab a snack or just rest for a few minutes before tending to the next patient.
Kelly Burns* was delighted by volunteer Tom Jeffers and the gentle way he put her and her husband at ease upon their arrival at the hospital.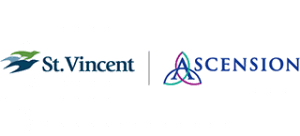 "Tom initially and got us from the lobby, took us back, got my husband's weight, and made sure we had everything we needed," says Burns. "Tom asked if I wanted coffee or something to drink, and when it was time to go home, he wheeled my husband out to the door where I picked him up. Tom is such an amazing and personable volunteer."
Ascension St. Vincent has been utilizing volunteers since 1881. In fact, there's a note from a payroll book dated December 1882 in which a gentleman named James Waters offered his services to the Sisters of Charity of St. Vincent's Infirmary free of all claims and without wages. History notes from Ascension St. Vincent report that volunteers were offered a free meal and at times even a free bed.
The St. Vincent Hospital Guild was organized in 1933 and beyond fundraising, the women volunteered, often focusing on women and children. A "Ladies of Charity" group was organized in 1946 by the Guild to do charity in the local neighborhood. They bought a house across the street from the Fall Creek location but sold it in 1976. The first Director of Volunteers was appointed in 1959, Candy Stripers were introduced in 1960, and the Red Coats was created in 1969 for male volunteers.
The staff at Ascension St. Vincent is grateful to be a part of the Westfield Chamber as that partnership has allowed them to network and meet other members of the community.
"It's a great networking opportunity that opens so many doors for us," Ford says.
Ascension St. Vincent Carmel is located at 13500 N. Meridian Street, Suite 155, Carmel, IN 46032. For more information, call 765-456-5699.
*name changed to protect identity of patient