Generations of Hometown Banking: Centier Bank
by Christy Heitger-Ewing
When the pandemic first hit, we all wondered what was happening and how it would all unfold. It was quite an unsettling time, to say the least, so most people weren't out job hunting or job hopping. David Taylor, however, was compelled to take a leap of faith after meeting a regional leader of Centier Bank, an entity that has been around for 128 years and is now it its fourth and fifth generation of family ownership. In January 2023, CEO and Chairman Mike Schrage, who has been leading the institution for the past five decades, named his eldest son-in-law, Chris Campbell, bank president.
"Centier has a compelling story to tell. I couldn't pass up this opportunity to work with a bank with such great corporate values," says Taylor, who joined the team in March 2020.
Centier Bank is unique for so many reasons, starting with the fact that the leaders stand by their not-for-sale commitment, which means that they pledge to their associates, clients, and communities they serve that they will continue to preserve independent, hometown banking in Indiana for generations to come. Centier, with 58 locations in Indiana and five locations serving central Indiana, entered the greater Indianapolis market in 2011 and opened a branch in Westfield in 2016. They have plans to grow even more in the months and years ahead.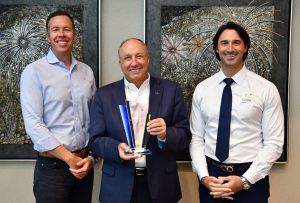 "Our purpose is to enrich lives through financial guidance for an even better tomorrow," says Taylor, Westfield's Branch Manager. "Your finances and your financial health dictate so much of your life. We understand that and see it as a responsibility to provide people with the best financial knowledge."
Centier Bank offers free financial education courses to anyone who wants it (one needn't be a client of Centier's to take a class). These courses, called Centier to You, are offered both online and in person and are taught by community ambassadors. Through community outreach, they provide financial education courses at the Hamilton County Jail and the Dove Recovery House for Women.
"At Centier, you're not a number. You're a person," says Taylor. "For every customer who comes in, we strive to provide a remarkable experience. We want people to like coming into the bank."
The bank's servant heart culture is also special. They encourage their employees to go out into the community to volunteer their time at whatever organization or nonprofit resonates with them. Every Centier employee is given eight paid volunteer hours to use each year in which they can donate time to their favorite organization or nonprofit. Centier also supports the community through sponsorships.
"That's the purpose of community banking," says Taylor. "Community is about neighbors serving neighbors and creating a better place for everyone to live, work, and play. By being out there and supporting organizations, we're promoting our servant heart culture."
In 2022, Centier Bank, as a corporation, volunteered more than 20,000 hours.
"The proof is in the pudding, as they say," says Taylor. "That's one of the reasons I joined Centier."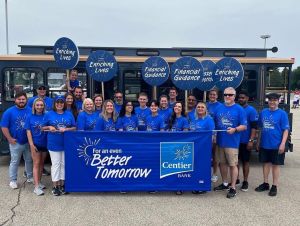 Centier Bank sponsors a number of local events such as Cuisine Connect Culture (a Taste of Westfield kind of thing), on September 16, Pumpkin Function (a music-themed event with vendors) on October 21, and Dog Tag Dash (a fundraiser for the Humane Society) on November 4.
Centier is all about relationship banking. This is why for the sixth consecutive year, they have been recognized as a top-rated bank, ranked as the #3 Best Bank in the State.
This Forbes survey asks more than 31,000 customers to rate their overall satisfaction with their banking experience. This includes things like customer service, quality of the financial advice they are given, transparency of fees, ease of navigating the company website, on-location branch services, and overall level of trust the bank inspires. In addition, Centier Bank has been named by American Banker Magazine as one of the Best Banks to Work in Indiana and the United States.
"These are based on employee surveys so our employees are the ones championing it," says Taylor. "These accolades are hard won, but the leadership here at Centier goes above and beyond for their employees. Our associates give the best service because they are happy working here!"
Centier Bank is located at 3002 IN-32, Westfield, IN 46074. For more information, call 317-867-1884.