Party On: KidZone Party Rentals Can Accommodate Any Party Need
by Christy Heitger-Ewing
When I was a kid, a backyard party consisted of hot dogs served on fancy plastic plates, some colorful balloons lining the deck, and perhaps a run through a sprinkler to cool off. Boy, how times have changed! These days you can throw an intimate party or a huge bash that will please all ages and demographics; it's a one-stop shop when calling KidZone Party Rentals. They offer everything imaginable, including interactive attractions, mechanical rides, giant water slides, bounce houses, obstacle courses, carnival games, arcade games, and toddler inflatables. They have 20 water slides and more than 150 different types of equipment for company picnics and parties. Plus, they are constantly adding to their offerings based on customer feedback.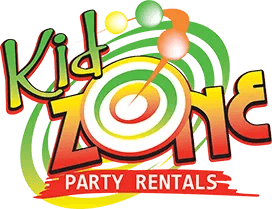 "People ask for something and if we don't have it, we get it for them," says Nathan Suddarth, who owns KidZone Party Rentals as well as Paradise Shaved Ice & Ice Cream Shop, with his wife Becky. "We continue to grow with the demand so now we can do mechanical bulls, rock walls, and choo-choo trains."
They can even provide a full line of entertainers like balloon twisters, face painters, airbrushed body art, caricature artists, and deejay services. Plus, they rent movie screens, laser tag, dunk tanks, and shaved ice/ice cream.
They can accommodate any sized party—from intimate affairs to huge corporate events. For instance, they set up big events for the state of Indiana, including Spark! Fishers and Monsoon Madness. They also do all events for the Indiana Pacers and the Indianapolis Colts. For instance, they do the Pacers season ticket holder event, the Colts company picnic, and all of the "kid zone areas" at the Indianapolis Motor Speedway. Hamilton County schools and churches also utilize KidZone for most of their festivities.
Although 50% of their business consists of large events, they also do backyard parties, renting items a la carte so if you need some tables, chairs, and a tent for a grad party or wedding reception, you can do that, or if you want an inflatable obstacle course or virtual reality roller coaster, they can accommodate that as well.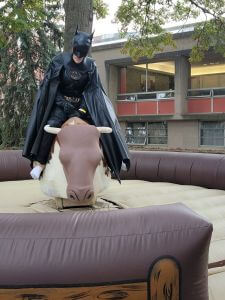 "We rent everything from a $3 chair to a $700 intricate water slide and everything in between," says Suddarth, who started the business in 2009, making this their 14th season.
They have found that most events last between three and four hours so they operate in a six-hour timeframe in which they deliver and pick up on the same day unless it's a massive event.
It's wise to make a reservation with at least a week's notice. They stop taking reservations three days prior to the event so that they are able to staff it properly.
"Someone called today wanting a 2 p.m. rental," Suddarth says with a chuckle. "Even Amazon needs more notice than that!"
Rox B. says she made a last-minute decision to rent tables and chairs for a graduation party and was impressed with the professionalism she encountered at KidZone Party Rentals.
"The crew showed up on time, was professional, and set up the tables exactly where I wanted them and then picked them up when the party was over," she says. "Almost no work for me to do at all!"
Located in Westfield with a staff of 60, KidZone Party Rental is the preferred Hamilton County company when it comes to throwing a dynamite shindig. They do travel outside of Westfield, Noblesville, and Zionsville. For example, they are often hired for parties in Whitestown, Brownsburg, and Avon.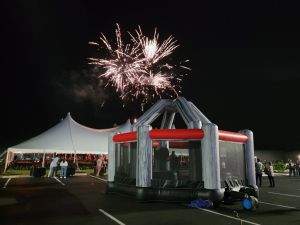 "We hire and mentor a lot of young people so they can learn the business and learn how to work hard and get out of the Hamilton County bubble a bit," Suddarth says.
Lindsey McKnight has used KidZone multiple times and is always pleased with the result.
"My kids have so much fun in their inflatables!" McKnight says. "The teenagers that come to set up and tear down are always respectful."
As a member of the Westfield Chamber of Commerce, Suddarth does a lot of events for the Chamber.
"When they call and need a concession machine or something fun at the Famers Market, they call us," Suddarth says. "We're the go-to for the city and the Chamber."
For more information or to book a rental, call 317-777-2404 or visit kidzonepartyrentals.com