Shopping for Memories: Tad's Westfield Shoppes​
by Christy Heitger-Ewing
Although Karen Shaulis and her husband, Joe, opened Tad's Westfield Shoppes in January 2019, Karen didn't begin working there regularly until the pandemic when she was laid off from her job. As it turns out, getting laid off was the best thing that ever happened as she found her true calling in running Tad's.
"I'm a super social person. I love meeting customers every day and interacting with all of the vendors. It's a spectacular group of people," says Shaulis. "This is the most fun I've ever had!"
For 20 years, Roger Crim, a local artist and businessman, ran Main Street Shoppes (formerly known as Westfield Antique Mall), which was located across the highway. When he decided to close his business, he told the Shaulis' that he had cases, candy counters, carts, and dollies, and they were welcome to them.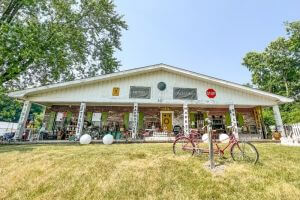 With more than 70 vendors, their merchandise rotates daily, with different vendors coming in each day to bring in new treasures.
"The fact that we always have new and fresh things keeps people coming back regularly," says Shaulis. These loyal customers often bring friends and family in with them, which she calls "the biggest compliment ever."
The 12,000 sq. ft. mall houses an eclectic mix of antiques, collectibles, handcrafted artisan furniture, antique furniture, and Midcentury modern, plus vintage tools, military items, vinyl albums, signs, and jewelry.
"We have quite a few brides-to-be who come in with friends and mothers looking for jewelry and décor for their wedding," says Shaulis.
They have a mercantile with culinary treats, a boutique, and even toys and Beanie Babies for kids.
They also sell oddities like old wood coffins.
"Shoppers can find items you won't find anywhere else," says Shaulis.
In addition, Tad's has local artists with paintings and photography. Given their vast selection, the store appeals to all ages and demographics.
"Dads and kids will come in and look at baseball cards and memorabilia for hours," says Shaulis. "We're not just a chick store. We've got man cave stuff!"
Shaulis says that while she was never an "antiques aficionado," her grandmother was a collector who used to go to auctions to buy things so Shaulis developed an appreciation for antiques. It's not at all uncommon for her customers to be on the hunt for a memory of sorts.
"There's a large portion of the population who are minimalists, but their kids love to shop!" says Shaulis. "Those kids now want what their grandmother had."
There's nothing like childhood memories to spark nostalgia, and the candy counter at Tad's does just that. It's one of the first things customers see when they step in the front door.
"Everyone stops and lingers at the candy counter," says Shaulis.
They sell homegrown Indiana items from local companies such as honey from Wildflower Ridge Honey (Anderson), XXX root beer (Lafayette), and goat milk lotions & soaps from Bass Farms (Shelbyville). Bass Farms' first product was called Baby Butt Butter, a diaper rash cream that has also been proven to help ease the pain of radiation burns for cancer patients.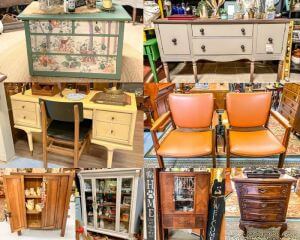 "It's little things like that that make our shop special," says Shaulis.
Originally from Indiana, Shaulis and her husband lived in Georgia for 20 years before the pair moved back to the Hoosier state 12 years ago to be closer to family.
"Westfield is a spectacular community full of friendly people," says Shaulis. "It went from being horse fields and cornfields to subdivisions really fast, but even with all the growth, it still feels like a small-town, cozy community."
Now that Tad's Westfield Shoppes has been here for several years, it has become a destination stop for out-of-town shoppers, many of whom have found them while visiting Grand Park. And since they are located next to Big Hoffa's Smokehouse, it's not unusual for teams to eat some BBQ and then snoop around Tad's Westfield Shoppes for sports cards and other goodies.
Shaulis' favorite thing about owning and running Tad's is getting the chance to welcome all the smiling faces each day.
"Everyone comes in happy and leaves happy," she says. "That's because we are not a 'needs' but a 'want' store, and that's more fun!"
Open seven days a week from 10-6, Tad's Westfield Shoppes is located at 840 E. Main Street in Westfield. For more information, call 317-437-8685 or visit https://westfieldvintagestore.com