Here & Happy to Help: The Schaaf CPA Group
Some people like to do their own taxes while others prefer to hand the task over to professionals. If you don't have complicated returns and are just filing your and
"I could pay a professional to mow my lawn. They would do a better job and save me some time, but I don't because I like cutting the grass," says John Schaaf, owner and partner of Schaaf CPA Group, LLC.
"The same thought process applies here. On the other hand, if you hate filing your taxes, give it to us and we'll get it done."
It may not always come down to a matter of preference, however. According to Schaaf, there are certain life complications that Turbo Tax or H&R Block will not be able to handle. Those complications include being self-employed, having a child currently enrolled in college, moving from one state to another, or approaching retirement.

"As you're inching closer to retirement, that's when you have to decide which account you should take money out of—for instance, a traditional or Roth IRA," Schaaf says. "Also, when should you collect social security? Those are the types of big life decisions you definitely want to consult with us on."
Tax software systems may make the process seem simpler than it is. However, blindly typing numbers into forms to see the amount that pops into the top right side of the screen for your refund does not mean you understand the big picture.
"If the number goes up, you're happy. If it goes down, you're sad," Schaaf say. "But many people don't really know what they're filling out, nor do they understand why the refund number changes."
According to Schaaf, a whopping 70% of self-prepared returns contain an error. Sometimes that error may cost you money while other times it may save you money; either way, it's an error. It's better, of course, to get it right the first time, which is why it's wise to consult with a CPA.
Schaaf opened Schaaf CPA Group, LLC in 2007 and has been serving the community ever since. Originally from Dale, Indiana, a small town located near Santa Claus, Indiana (famous for Holiday World & Splashin' Safari theme park), after graduating college Schaaf chose to move to Hamilton County for the best of all reasons.
"I met a cute girl from Westfield," he says with smile. (His wife, Lisa.)
Hiring a CPA firm is beneficial not just during tax filing season but year-round. Creating and maintaining a lasting relationship with a trusted CPA will benefit you for years.
"We partner up with our clients, meaning that once we do your tax return, we're on call for you for the rest of the year," Schaaf says. "It's not just a transaction. We build a relationship with our clients. We feel it's our job to think about your future ten years from now."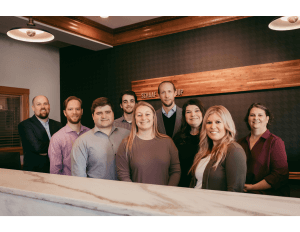 This means that if a question arises, they'll answer it. For instance, you may be wondering if you're withholding enough money. Or if your spouse changes jobs, you might ask if you need to do something differently. Having that long-term relationship means that when you call, you don't have to explain your background because they are already familiar with it.
During tax season, Schaaf's team sends their clients a checklist, which includes questions like, "Did you buy an electric vehicle this year? Did you install any energy efficient solutions to your home? Did you buy crypto?" Once clients have completed the checklist and submitted their documents, Schaaf will reach out to ask a handful of additional questions.
"No one drops off their documents and it's done," he says. "There will always be a few questions we will need to address."
A 15-year member of the Westfield Chamber of Commerce, Schaaf is devoted to the Chamber because the Chamber is devoted to growing and empowering the business community.
"I give them whatever time and money they ask for in order to accomplish their mission because they have made quite a lot of gains since Steve Latour has been the executive director," says Schaaf, who loves educating and networking with members of the community.
"I recently was invited to do a coffee with the Chamber at Chatham where I spoke to the crowd and answered questions," Schaaf says. "Whenever I can network amongst the Westfield business community, I do because Chamber networking is how I got started years ago. That's how I got my very first clients, and I've continued growing from there."
Schaaf CPA Group, LLC is located at 110 N. Union Street, Westfield, IN 46074. For more information, call 317-867-5427 or visit https://schaafcpa.com
Written by Christy Heitger-Ewing