Community Focused: Bondry Consulting Focuses on Municipal Advising, Economic Development & Public Relations
With more than a decade of public finance experience under his belt, in 2019 Oscar Gutierrez founded Bondry Consulting, the only minority-owned and veteran-owned municipal advisory firm in the state.
"Individuals have financial advisors. We are ultimately the financial advisors to the municipal entities," says Gutierrez. "That's where the term 'municipal advisor' comes from."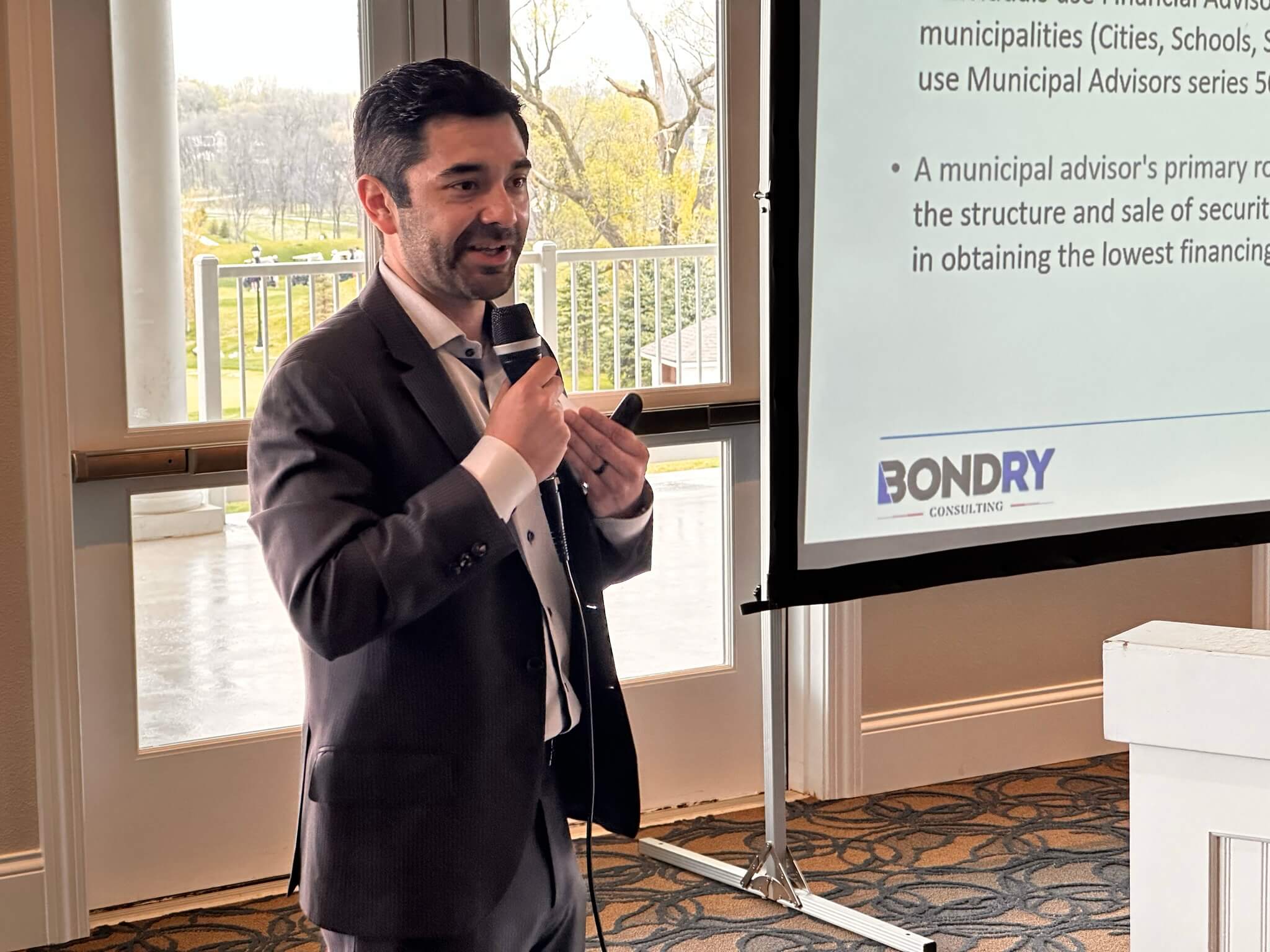 Before launching the company, Gutierrez, who lives in Westfield with his wife, Madeline, and two children, previously served as the City of Fishers' first Controller where he oversaw its Town-to-City financial transition and earned Fishers the unique distinction of operating as the only Indiana city with a "AAA" credit rating from Standard and Poor's. Prior to serving Fishers, Oscar held the same position for the City of Lawrence, where he increased cash reserves by 200% and helped upgrade the city's credit rating.
Before working in municipal government, Gutierrez worked in various financial management capacities at the Department of Defense, for which he was awarded the Joint Service Commendation Medal and Joint Service Achievement Medal. He served in the U.S. Air Force for four years where he received his BA in Economics through Thomas Edison State College in New Jersey. He continues to serve as a Senior Non-Commissioned Officer and active reservist in the Army Reserves, a Military Finance Instructor for the U.S. Army, and is a U.S. Air Force Veteran.
"After several years of finance work in local communities and having the opportunity to see firsthand how financing can change the trajectory of communities, I knew I wanted to begin leading the charge to bring change and hope to communities across the state," says Gutierrez. "Our mission is to build a special bond with our clients by practicing honesty and integrity in fulfilling our responsibilities."
Municipal financing can be complicated, especially when you're dealing with various boards, commissions and elected officials, all with different dreams and visions for their community. The goal at Bondry Consulting is to bring communities together to help them recognize potential and put the financial tools in place to make dreams a reality. Regardless of race, ethnicity, background, or perspective, Bondry's goal is to unite all individuals to enhance the community in which we live.
Their focus on diversity is both internal and external. Not only do they employ a diverse staff but they also hire interns who are men and women of color.
"Part of our mission is to bring them in, train them, and help launch them into professional positions by having them move on to our partnership companies," says Gutierrez.
Bondry offers three main services: municipal advising, economic development and public relations. Bondry aims to provide advice and consultation to help communities in today's rapidly changing global environment. By taking the most innovative approaches, Bondry helps communities coordinate projects in the most efficient, effective, productive ways.
In 2022, Bondry Consulting secured more than $190 million in municipal financing to help build communities to their potential. Speaking of potential, Westfield is one of the fastest growing cities in Indiana and includes the fastest growing school district in the state! Hamilton County is home to countless dining options, world-renowned attractions such as Grand Park, the Palladium, and award-winning parks & trails, resulting in a booming tourism population.

"Bondry is here to make great initiatives come to life by using innovative financial tools and techniques," says Alex Stanley, Bondry Vice President.  "This ultimately results in vibrant community developments creating a unique sense of place where families and businesses want to live, work and play."
The Bondry team invests in the community by sponsoring Westfield youth sports, high school athletics, the wellness center, and the Westfield Lantern Awards through the Westfield Chamber of Commerce. In addition, they sponsored the LED high school football stadium scoreboard.
"We invest in the community we serve," says Gutierrez, who notes that they also participate in significant charity work in Indianapolis. "We donate to a long list of organizations, giving at least 5% of our revenue back to communities."
Gutierrez notes that Bondry has a multi-year plan with the county, which is in the process of completing several projects over next few years that include the 4-H fairgrounds, Prevail women's shelter, bridge funds, communications center, and courthouse improvements.
"There's a long list of projects that the county is going to be able to accomplish without raising taxes to the residents, and that's part of our goal as their municipal advisors," says Gutierrez. He and his team remain hyper focused on saving the taxpayers through credit improvements.
"If you go shopping for a car, you want to get the best interest rate you can," says Gutierrez. "It's significantly more impactful when you're dealing with tens of millions of dollars!"
Bondry Consulting is located at 35 E. Main Street, Carmel, IN 46032. For more information, call 317-537-9555 or visit https://bondryconsulting.com
by Christy Heitger-Ewing