Made-to-Order Deliciousness: Customers Love Quack Daddy Donuts
A decade ago, a seed was planted in their minds when Andy Arrendale and his wife, Nicole, stumbled upon a made-to-order donut shop in Florida. Both nurses, the pair loved the made-to-order concept and thought how great it would be if they could one day bring it back to Indiana. At the time, they had one young child with another on the way, so the timing wasn't right to launch a new business. Through the years, the family continued to visit that donut shop in The Sunshine State, and the desire to open their own place back home only grew.
"I finally got the okay from my better half to look into it further," says Arrendale, who learned that there was a franchise in Pendleton called Quack Daddy Donuts, and the owner was looking to exit the business.
The original owner named his shop Quack Daddy because the Pendleton area (especially Falls Park) attracted a lot of ducks.
"It's a cute and catchy name that's memorable," says Arrendale.
When the Arrendales began hunting for a location to open Quack Daddy Donuts, they looked on the Butler campus and in Carmel, but neither place felt right. Then they found this location in Westfield, just a half a mile from their house, and it was a no-brainer.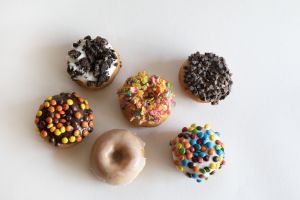 "It was perfect for us!" says Arrendale, who signed the lease for Quack Daddy Donuts in February 2020, just before the COVID closures. Although the original plan was to open in the summer of 2020, it got pushed to November, and they officially welcomed the public on Small Business Saturday. Ultimately, it all worked out pretty well. Not being a sit-down restaurant was a good thing at the time. Operating in a carry-out capacity meant they could maintain social distancing requirements.
"With my wife and I having a medical background, we were overly cautious anyway," says Arrendale. The community welcomed the new donut establishment with open arms. "We feel like if we can ride through that [pandemic], we should be able to take anything that comes our way."
Upon entering the shop, customers fill out a made-to-order order form, choosing from seven different icings and 17 different toppings. The staff then ices and tops the doughnut in front of you.
One of their most popular flavors is the maple bacon doughnut with maple icing and warm bacon. As for toppings, sprinkles top the list! And it isn't just the kids who love them; adults want those sprinkles, too.
Their doughnuts are vanilla cake only. Sometimes when customers learn that they don't make yeast doughnuts, they're bummed.
"I'll usually offer them a free cake doughnut to at least try," says Arrendale.
They kick off every weekend with Flavored Cake Friday, which offers various flavors such as chocolate, blueberry pie, or apple pie. In the fall, they may offer apple cider or pumpkin. In December, they have crushed candy cane topping. They also sell local milk from Dandy Breeze Creamery in Sheridan and local roasted coffee from Indy Coffee Roasters out of Carmel.
"We're a full-service café, so that we can make all your espresso, lattes, cold brew, and Nitro coffee," says Arrendale.
They provide catering, so if you'd like Quack Daddy to come to your office, they'll bring their doughnuts, icings, and toppings and basically do what they do in the shop at your event. They also can accommodate large orders for pickup. Plus, they host events like birthday parties in their store.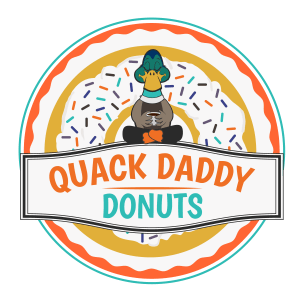 Arrendale loves partnering with different organizations and entities in the community to benefit local schools, churches, and nonprofits. They have a program called "Ducks for Dollars," in which they sell little rubber duckies in the shop for a dollar a piece; each month, they donate those dollars to a local nonprofit within the Indy area.
Over the last few years, Arrendale has paid attention to trends and listened to customers' likes, dislikes, requests, and suggestions. For instance, they love that Arrendale and his staff are big race fans, so, during May, they ask for some Indy car drivers' favorite desserts and turn them into specialty doughnuts. For instance, four-time Indy 500 winner Hélio Castroneves they transformed a famous Brazilian dessert—chocolate with toasted coconut and chocolate shavings on top—and made it into a delicious doughnut. For racer Graham Rahal, they made a banana pudding doughnut. And at the end of every month, the staff is always gearing up to try something different.
"There have been times when we've not transitioned to our new doughnut by the first of the month, and customers are like, 'Hey, where's the new Flavor of the Month?'" says Arrendale.
He loves that his customers are so loyal and hungry to try new things! One fun memory involves a Saturday when a group of nuns came in dressed in full habits. They had clearly been in before because they went directly to the order form area and wrote out "Sisters" as their name.
"We thought that was very cool," says Arrendale.
Quack Daddy Donuts is located at 16153 Spring Mill Rd., Ste. 500, Westfield, IN 46074. For more information, call 317-804-9932 or visit https://quackdaddydonuts.com/locations/westfield-indiana/
Written by Christy Heitger-Ewing