Westfield Chamber Partners with Community First Bank
Last year, the Westfield Chamber of Commerce was in search of just the right banking partner. They wanted to select a partner who was as committed as they were engaged to community members and impacted the community at large. Therefore, they held an extensive RFP process in which they looked at Chamber members who had physical locations within Westfield and sent out a bank RFP to each of them. Out of the ten they sent out, they received six responses. Drew Lacey, Director of Finance & Account Services at the Chamber, and two other board members reviewed the proposals, then allowed each bank to sit down with them to go into greater depth about their ideas. After further discussion, it came down to two banks, each of which delivered a presentation to the entire board. Ultimately, the board selected Community First Bank to become the Chamber's bank as it seemed the best fit.
"A couple of things really stood out to us about Community First," says Lacey. "First and foremost, we were impressed with their prior engagement with the community. They are front and center, always at events, sponsoring things. That's what we want in a banking partner—someone who will be very active in the community."
They also provided a proposal that had significant cost savings for the Chamber, which does many transactions with credit cards. Their merchant service fee structure was a lot better than the other proposals.
The Chamber and Community First members are excited about this partnership and all of the collaborations they will work on together.
Adrienne Riddle, Vice President of Treasury Management at Community First Bank of Indiana, notes that the Chamber really is a partner within the community for businesses.
"We feel their values and mission align with the bank's in terms of supporting the community, the residents, and the businesses within the community," says Riddle. "Certainly, we love to have that visibility, but truthfully at heart, we really enjoy helping our businesses and the community as a whole."
Community First Bank expanded into the Hamilton County community in 2017.
"The relationships that we have built with the Chamber staff and the Chamber members have really been instrumental in the growth we've had over the past five years," says Lainey Schroer, Marketing/Communications Manager at Community First Bank of Indiana. "They have been a fantastic strategic partner for us in helping us achieve our organizational goals."
At the end of 2022, Schroer met with Steve Latour, CEO of the Chamber, to lay out plans for 2023 and beyond.
"The benefit of having a relationship with them is we can plan ahead and really be intentional about the partnerships that we do throughout the year," says Schroer. "Our team is very intentional about going to the networking events because we find a lot of value in that. From a marketing perspective, however, we also find a lot of value in sponsoring events. Each year we are looking to grow what we do with them."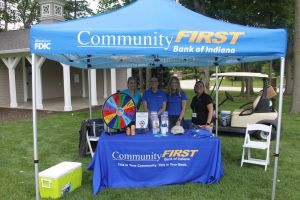 In the past, Community First Bank has supported students in various ways. For instance, they have donated student scholarships. They also supported local high school students "Shark Tank" luncheons, where students with an entrepreneurial spirit present their projects.
In addition, Community First Bank has been a sponsor for the Chamber golf outing, and they love to be involved with the young professionals group, sponsoring their conferences and such. One event they've sponsored in the past and are eager to be a part of again is the summer's Party on the Patio, a fun, free gathering that started several years ago and always draws an impressive crowd.
"The Westfield Chamber's mission is to make Westfield a place where people and businesses want to be," says Schroer. "The Party on the Patio is a perfect example of that mission and also a main reason why we love being in partnership with them."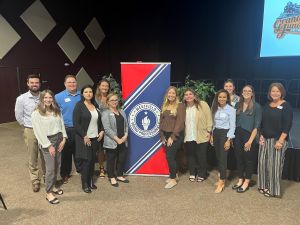 The Party on the Patio, which involves showing up to an outdoor venue, getting a drink ticket, listening to music, and networking with others in a casual, comfortable environment, is fun, engaging, and typically theme-oriented.
"I love that the Chamber partners with local businesses, focusing on restaurants that can serve some sort of Happy Hour food or drink," says Schroer. "Last year, we were involved in one with a tailgating theme, so we were able to bring a fun gift that tied to that."
Adds Riddle, "The crowd it draws in is a diverse group of not only business professionals but also residents from within the community, which really speaks to the spirit and the fun-loving community that Westfield is."
As the Westfield Chamber looks at 2023 and beyond, they are working ahead with Community First Bank to be strategic in planning and use their budget to contribute to the business community and the community at large.
"We're looking at ways that we network and have that business-to-business opportunity," says Schroer. "For instance, the young professional's group is looking to do a community 5K run next Halloween. So partnering with the Chamber gives us exposure with the community at large as well."
by Christy Heitger-Ewing