Idea to Corner Icon: The Story of the Westfield Wine Vault
Everyone had a different response to the pandemic. While some people baked bread and others binge-watched television shows, Andy Durnell took an idea that had been percolating in his mind for some time and made it come to fruition. A financial advisor for over two decades, he is a wine connoisseur. Moreover, he has a passion for educating others about wine. So in December 2020, he opened the Westfield Wine Vault in the old bank building on the northeast corner of downtown Westfield.
"I enjoy wine and wine tasting, and I believe that it's always better when there is a nice experience around drinking it, whether that's with company, friends, education, or whatever it is," says Durnell.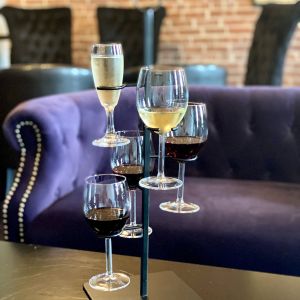 He knew that here in the Hoosier state, most of our wine exposure tends to be Indiana wine. While there are some great wineries in the area, he longed to introduce some amazing wines from some of the best regions in the world so that someone could try them without having to commit to purchasing an expensive bottle. They do this with their flights.
"It's a way for us to do a scalable version of wine education," says Durnell, who is not pretentious about his knowledge. He truly loves helping people learn all about the vino while tasting it.
"It's basically two hours of chatting about wines while drinking them, but it's not just tasting and pondering them. It's a very structured way to learn about wines," he says. "Wine education is kind of our pinnacle."
Durnell can typically suggest the perfect wine to a customer by asking them just a handful of questions.
"I pride myself on that," he says. "It's fun to make a good recommendation to a customer."
Opening during a global pandemic presented its challenges but not the ones you might expect.
"Honestly, the biggest challenge were the crowds! We were way busier than I thought we would be in the beginning," Durnell says. "I think that's partly because when we first opened, we were the only game in town as other places were still closed."
Plus, when you're the new kid on the block, everyone wants to check you out. Initially, they were so slammed with business that Durnell and his staff would be working every weekend until midnight. Now things have simmered down, and he says they are more of a "pop in" type of place where couples stop before or after dinner during date night.
"I don't really care how people want to use the Wine Vault," Durnell says. "As long as people have a great time, that's all I care about."
Westfield Wine Vault has three main spaces—the downstairs tasting room, the upstairs dining area, and the speakeasy room with couches and chairs.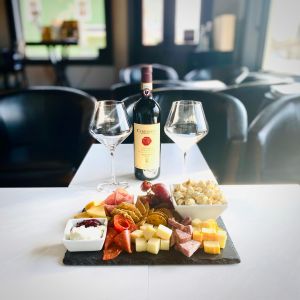 When they first opened, they didn't have a traditional wine club, but they started one in early 2021, and it's an elevated experience. Members get an exclusive bottle, and there are four different price points from which to choose.
"We hand-pick it and try it," Durnell says, noting that you don't just get California wines but wines from all over the world. Plus, multiple times a month, members get to come in to enjoy a discounted flight.
"We spend a couple hours going through a flight, usually pairing it with some type of food," Durnell says. "That's another learning curve for Americans because we don't do a whole lot of wine and food here in America."
They do a blind tasting, so you get to try wines without even knowing what they are; they are then revealed in the end.
In July 2022, Durnell opened The Vault, an intimate members-only club in the back that seats around 20. It focuses more on high-end wines. A small percentage of people want to spend a lot of money on wine, but for the few who want to keep learning and stretching and don't mind spending more, The Vault is the place for them. They also have the Wine Vault Academy, which is another way to experience wine and really go in-depth into certain types of things.
Durnell, who regularly seeks various wine certifications, is always trying to think of ways to grow and evolve the business.
"I'm always thinking, 'Wouldn't it be cool if…?'" he says. At one point, he considered adding a café.
"I'm glad I didn't do that," Durnell says, though he adds, "We like to surprise people with what we do."
He spent the first year learning the business and the second year opening The Vault. So during this third year, his plans are simply to get really good at what they do now.
"I want everyone to come in and have a 5-star experience," he says. "I feel like we can really hone in on that in 2023—just getting exceptional at what we do."
His dream is to become known as a local resource so that anyone who hears the word "wine" in and around the Hamilton County area will automatically think of the Westfield Wine Vault. He feels lucky to have had such wonderful support from the community right from the start.
"We created relationships with our customers, and now," he says, "two years in, we feel like we've known these customers forever."
Westfield Wine Vault is located at 100 N. Union, Westfield, IN 46074. For more information, call 317-567-2144 or visit www.westfieldwinevault.com
by Christy Heitger-Ewing
pictures provided by Andy Durnell